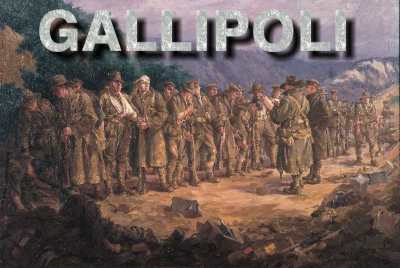 (Above painting by Ellis Silas; AWM 2436)
Adapted from the book 'Don't forget me, cobber!' by Matt Anderson
Lone Pine and
The Nek
The bloody fighting continued, and by the end of the first week more than 6500 ANZACs had been killed or wounded. Fighting was now going on in the gullies and ridges a kilometre inland.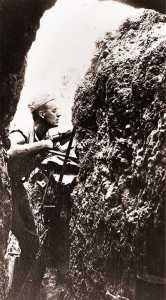 (Above) The cramped conditions of trench warfare. (AWM A907)
Somehow the wounded soldiers had to be evacuated to the field hospitals at ANZAC Cove – this was the job of the stretcher bearers. One stretcher bearer named Simpson used a donkey to help him carry the wounded men back to safety. Week after week, Simpson and his donkey, Duffy, braved the Turkish bombs and bullets to rescue wounded ANZACs scattered amongst the steep and rocky hills of Gallipoli.
One day Duffy walked down to the beach carrying a wounded soldier. Simpson was nowhere to be seen. His mates went looking for him, only to find he had been killed. He was only 22 years old. The man with the donkey was known by many ANZACs who fought at Gallipoli. Many owed their lives to his courage, and many more were impressed by his bravery.
Every soldier at Gallipoli had stories to tell of the fighting, but two battles stand out because they were so fierce. One was fought at a place the Australians called Lone Pine. The ridge line was given its name because when the Turks were making roofs for their trenches, they chopped down every tree except one.
In the nervous moments before the attack, men moved amongst the trenches, looking for friends, brothers or fathers. If they were about to go into battle they wanted to be with their mates. On hearing the signal to attack, the ANZACs jumped out of their trenches and raced across no-man's-land – the land that separated them from the Turks. When they reached the Turkish trenches, they had to fight their way through logs and mud to get underground. When they finally broke through, there were so many soldiers they could not raise their rifles to fire. Much of the battle was with bare hands. It took two days of the most horrible fighting before Lone Pine was captured by the ANZACs.
The Victoria Cross is awarded for acts of the highest bravery. Of the nine Victoria Crosses awarded to Australians at Gallipoli, seven were won at Lone Pine.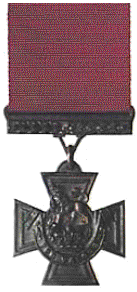 (Above) The Victoria Cross.
The Australians had lost 2273 men, and the Turks had lost at least 4000. The battle had taken place in an area the size of two soccer fields.
---
Copyright © ANZAC Day Commemoration Committee (Qld) Incorporated 1998.